The NZ Power Industries Alternative Ways to Reduce 5% Carbon Emission
by A D Riley, on Nov 30, 2021 11:40:26 AM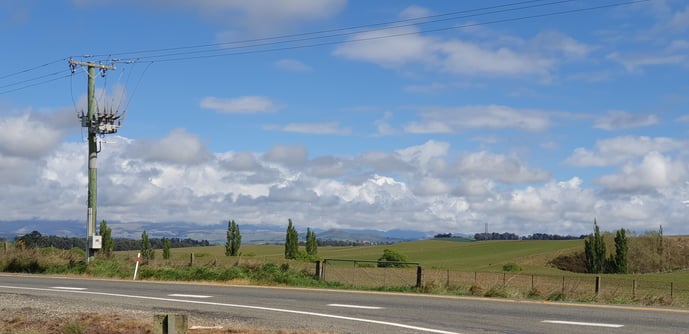 Privately-run and consumer-run Electricity Distribution Businesses (EDBs) are constantly facing big challenges to reduce carbon emissions. The recently concluded EEA 2021 Conference shows a strong drive by Climate Change Commission supporting the Zero Net carbon emission by 2050.
The transport industry started to decarbonize its own sector. It is now common to see full Electric vehicles (EV) and Plug-in hybrid electric vehicles (PHEV) running in our streets. The new Clean Car Discount also sets some financial incentives for buyers of full EV and PHEV until 31 March 2022. In the long term, this initiative will help to reduce the transport industry's carbon emissions. However, when considering EVs and PHEVs as new loads on their network, the EDB should take into account the new load and any potential risks it may pose.
How about the electrical sector's number to date? The figure below shows the greenhouse-gas-inventory and breakdown of emissions by industry during 1990-2019. The Energy sector was responsible for 42% of gross emission. This can be categorised into sub-group like transport, other sources of energy, and electricity. Their respective contribution is 20%, 17% and 5% gross emissions respectively. Though our electricity industry is a small contributor compared to other industries, there is a huge opportunity to decarbonise its own sector. The main contributor is associated with sulphur hexafluoride (SF6).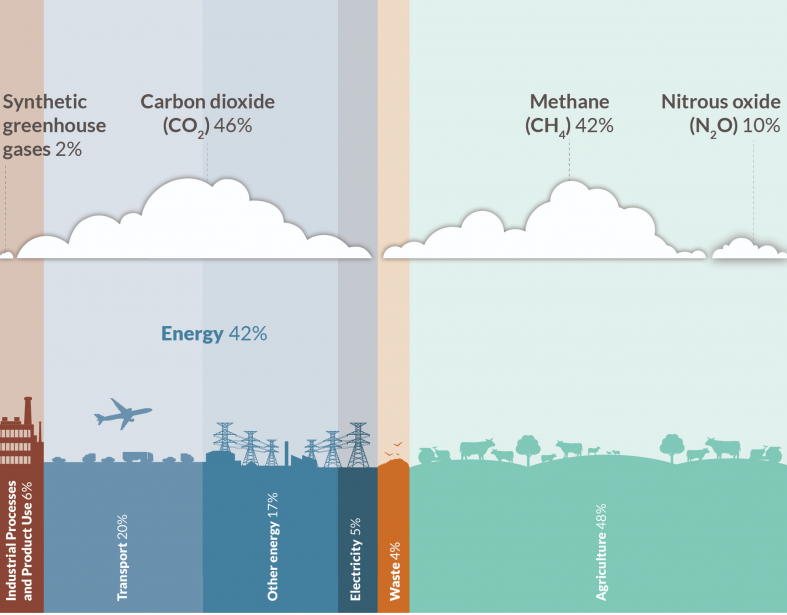 Source: Ministry of Environment
The main use of SF6 globally is in electricity transmission and distribution systems. SF6 has excellent insulating properties and is the preferred insulator for high voltage electrical supply equipment such as substations, gas-insulated switchgear, and circuit breakers. European Union is strongly mandating power utilities to look for an alternative and cut harmful greenhouse gas emissions. The ban on SF6 in the energy sector lags other industries. Fundamentally, that was partly due to a lack of viable alternatives especially on primary equipment 69kV and above. Though several switchgear manufacturers make significant investments in SF6-free solutions across MV and HV, some of which are already successfully deployed using dry air and in the combination of the vacuum interrupter.
The graph below shows trends of SF6 gas emission during 1990-2015. Greenhouse gases (GHGs) absorb heat from Earth's surface, warming the atmosphere and changing our climate. There is plenty of opportunities to take some action by further reducing the SF6 emission. On the other hand, we have still room for improvement to further reduce the use of SF6 by using air and vacuum type interrupter for MV switchgear like RMU, LBS, and Recloser.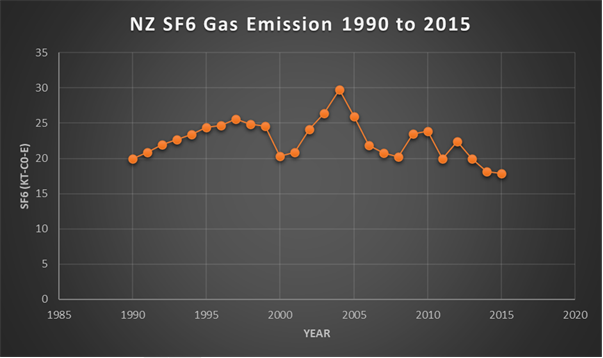 Source: Ministry of Environment - New Zealand Greenhouse Gas Emissions Inventory
Leader in Providing Environmentally Friendly Products
ADR has been a strong advocate of environmentally friendly Entec Load Break Switch (LBS) using epoxy insulated vacuum technology. This equipment uses high-reliability technology using vacuum interrupter and has Zero Global Warming Potential (GWP). We help several EDB across New Zealand with this journey. We encourage other utilities to come up with a holistic road map. Vacuum type interrupters are a mature, reliable, safe, and economical technology.
Improvement of SAIDI
Aside from the benefits, EBD's now experiencing a first-hand reduction of their SAIDI. The solutions put forward come with full automation to control the equipment using a secure remote terminal unit. We collaborated with network operations, planners, and operations crew to reduce man-hours during operations and maintenance. It also offers flexibility during outage planning and operations due to the built-in dual voltage sensors by reducing the maintenance costs of existing circuits.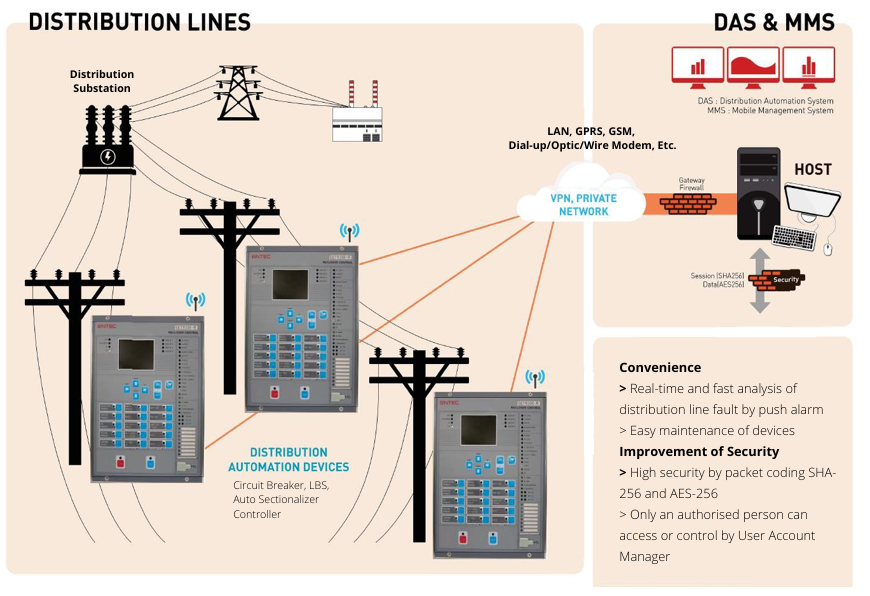 The flexibility of Entec Multi-Function Controller ETMFC610
Entec LBS has intelligent management functions built-in to allow faults on a network to be isolated, reducing the number of affected customers and SAIDI minutes. It indicates, monitor and controls the distribution system based on accurate measurements. It can also save and manage various events and load profiles that are useful for analysing the cause of line fault. The following are some of the key features and practical functions commonly used by EDB for distribution automation:
Resistive Voltage Divider (RVD) on all source and load bushings
Auto Sectionalising Programming
Loop Scheme
Multi-protocol support using DNP 3.0, Modbus, IEC60870-5-101, IEC60870-5-104 and
IEC 61850
Engineering Access
GOOSE
Cyber security
PQM counters, contact wear
PLC programming
Time synchronism (SNTP and IRIG-B)
Seamless integration of Abbey System Topcat RTU and 3rd party data radio (e.g., Tait 8000, Motorola GM328, 4RF Aprisa, Schneider Trio).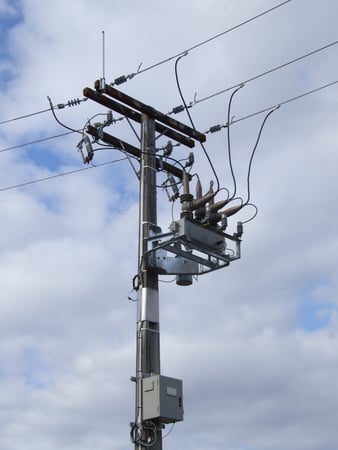 Best Cybersecurity Practise: Use the Best Available Security Encryption
Our power system is now using microprocessor-based Intelligent Electronic Device (IED) to efficiently protect and control critical power infrastructure. IEDs are also capable of handling other functions such as advanced communication, monitoring, and metering. Utility personnel can remotely access and manage data from IEDs to optimize asset management, streamline operations, and speed up maintenance. As automation increases, this also exposes power utilities to Cybersecurity threats. The Technical Committee (TC) 57 of the International Electrotechnical Commission (IEC) has developed international standard protocols for data communication which include DNP 3.0, IEC 60870-5, IEC 60870-6, and IEC 61850. These protocols may have vulnerabilities (e.g., unauthorized access, hacking) if not properly implemented.
Physical and cyber security are using both physical and cyber components integrated with both new technology and physical security running over TCP/IP platform. One of the risk mitigations EDB can implement is by establishing a Cybersecurity policy involving Operation Technologies and Information Communication Systems. Our IED supports cybersecurity features using cryptography. Deploying cyber security algorithms is one of the many defenses available. The Entec Controller ETMFC610 supports the Secure Hash Algorithm 256 (SHA-256). This enables field staff and protection engineers to remotely access the IED. The SHA-256 is a one-way cryptographic hash function. Due to convenient remote access, the security is strengthened by SHA-256 coding and user access authorization and control. Now the utility personnel will have peace of mind knowing their data is not decrypted and will not be compromised.
ADR is here to guide your journey to decarbonize the power industry. If you are interested in learning more about vacuum type interrupters of LBS and Recloser, please reach out to our ADR Power Business Unit to discuss your network needs and bespoke solution based on their network requirements.